Jr. Science Cafes
Students can meet STEM professionals and talk with them about their career paths and their personal journeys into science.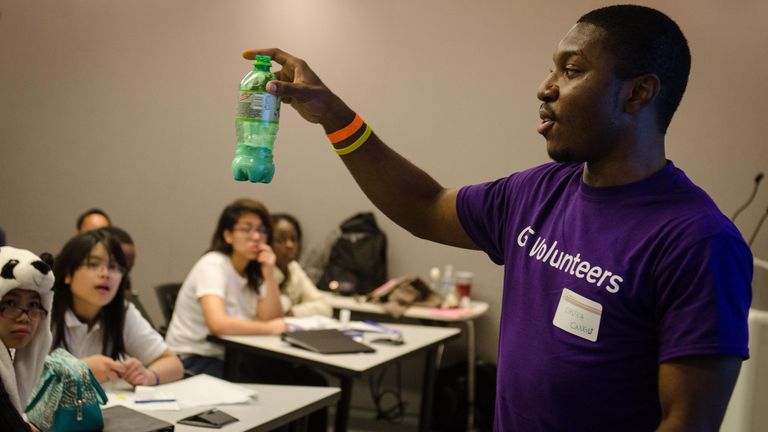 Have you ever wondered what it's really like to be a scientist?
During these 30-minute conversations, students will challenge their own scientific curiosity and uncover the lives of scientists and engineers through dynamic demonstrations and hands-on activities. Each session is an exciting opportunity for your students to interact with professionals and learn about cutting-edge research from experts.
There is no additional charge for these sessions, but they must be reserved. Please contact us at (773) 684-1414 to include a Jr. Science Café session with your field trip. Capacity is 35 students. This program is best for students in grades 5 through 12.
Jr. Science Cafe Schedule
Northwestern Series: May 2–5

May 2, 10:15 and 11:15 a.m.

Exploring Liquid Flow (On a Tiny Scale!)
James Hedrick, graduate student
Department of Chemical and Biological Engineering
Northwestern University

May 4, 10:15 and 11:15 a.m.

Simulating the World and Universe Around Us
Zachary Hafen, graduate student
Center for Interdisciplinary Exploration and Research in Astrophysics
Northwestern University

May 5, 10:15 and 11:15 a.m.

3-D Printing and You
Adam Jakus, postdoctoral fellow
Department of Materials Science and Engineering
Northwestern University

University of Chicago IME Series: May 10–June 2

May 10, 10:15 a.m.

A Survivalist's Guide to Building a Battery
Yu Kambe, battery engineer


May 10, 11:15 a.m.

Tuning by Pruning: Modifying Material Properties With Computers
Daniel Reid, PhD candidate


May 12, 10:15 a.m.

Saving the Good Guys: Bacteria That Helps Make Food
Johnny Alfaro, PhD candidate

May 12, 11:15 a.m.

How Liquid Crystals Make Color in Our Everyday World
Emre Sevgen, PhD candidate

May 16, 10:15 and 11:15 a.m.

Journey Through the Immune System
Elyse Watkins and Lea Maillat, PhD candidates

May 18, 10:15 a.m.

The Magic of Wound Healing
Jialu Liu, PhD candidate

May 18, 11:15 a.m.

Exploring Pressure in Extreme Environments
Viktor Rozsa, PhD candidate

May 22, 10:15 a.m.

You, Too, Can Quantum Compute!
Kevin Miao, PhD candidate

May 22, 11:15 a.m.

Nanomanufacturing: Small Solutions for Big Problems
Moshe Dolejsi, PhD candidate

May 31, 10:15 a.m.

The Future of Solar Power
Arin Greenwood, PhD candidate

May 31, 11:15 a.m.

From Tiny Particles to Planets and Gene Therapy
Hao Wu and Jiyuan Li, PhD candidates

June 2, 10:15 a.m.

Understanding Protein Folding (and When it Goes Wrong) With Computer Simulations
Ashley Guo, PhD candidate

June 2, 11:15 a.m.

Exploring Phase Separation
Alec Bowen, PhD candidate

Astellas Series: May 17–23

May 17, 10:15 and 11:15 a.m.

Where Magic and Science is United
Leticia Delgado-Herrera
Executive Director, Global Development Project Leader

Brigit Isaacson
Associate Clinical Program Director

May 19, 10:15 and 11:15 a.m.

TBD

May 23, 10:15 and 11:15 a.m.

Blowing Up a Balloon with Yeast
Ashley Hieu Le
Clinical Study StartUp Associate

Debra Sutkowski, PhD
Director, Therapeutic Area Publications Lead, Urology
There are no Jr. Science Cafés currently available
Check back for new sessions as they are announced.