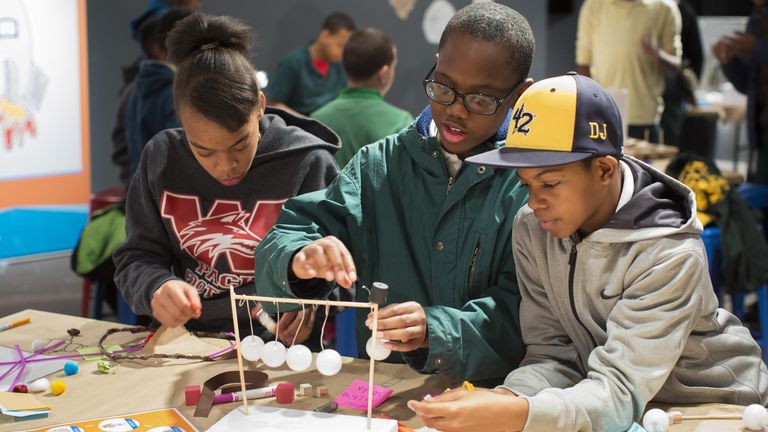 Join us for special events throughout the year that highlight and promote the Black Creativity Program. From workshops to Family Day, Learning Labs to galas, there's something for everyone.
Innovation Studio
In just over a month, the Black Creativity Innovation Studio made it possible for more than 1,000 students and guests to explore new ideas through making—a technology-based DIY approach that encourages creativity and invention.
Stocked with tactile materials and tools to encourage hands-on experimentation, the Studio also featured panels highlighting important contributions of African-American innovators to science, technology, engineering and medicine.
During open studio sessions for guests and workshops for schools and community groups, participants pushed the boundaries of innovation, developing such ideas as:
A heated umbrella designed by a 5-year-old guest.
An alarm clock that launches its user into a ball pit upon waking.
A toothbrush steam-cleaner to eliminate disposable toothbrushes.
Headgear that makes it possible for bookworms to have a book in front of them at all times.
Juried Art Exhibition
The nation's longest-running exhibition of African-American art features nearly 100 works from artists across the nation, including youth.
Black Creativity Family Day
This annual event, held on Martin Luther King Jr. Day, features talks with STEM professionals, hands-on design workshops and more.